Head of Talent Acquisition, Philips
Liz MacKay is a talentslinging Aussie with an MBA, 10 years recruitment expertise across agency, in-house and RPO and has worked with global brands like Johnson & Johnson and Philips. An accomplished TV presenter and performer who likes to sing in Italian and use slapstick to train and develop her team, she has expertise in volume, global exec search and specialised medical science roles, Liz knows how to find even the most obscure of candidates and better yet, influence the hiring outcome for optimal success.
Head of Talent Acquisition, EMEA, Verizon
Anthony is a strategic resourcing specialist who has designed and delivered international resourcing campaigns across multiple disciplines. He has been responsible for creating and managing global resourcing teams, translating business plans into resourcing activity and partnering with the business to help them succeed.
He is proud of the contribution a world class staffing function can provide - enabling revenue growth and delivering great customer service through recruiting the best people, efficiently and quickly.
Senior HR Business Partner, OECD
Laurence is a HR generalist and her core area of expertise is talent management: recruiting top talent for the organisation, helping staff grow, providing career guidance, and providing strategic advice to OECD management teams. She also leads innovative HR projects, facilitates the introduction of change, and provides advice to the HR Director.

As a HRBP she helps managers in the following areas: organisational development, workforce planning, staffing, performance management, coaching, recruitment, learning and development, teambuilding, change management, succession planning, and management of legal situations.

She is a strong innovator: She creates new programs, tests them in pilot mode and provides guidance to implement them organisation-wide (e.g. introduction of Talent Reviews, use of LinkedIn for recruitment, introduction of kick off meetings for recruitment).

Laurence is highly flexible and adaptable and she thrives in dynamic multicultural environments.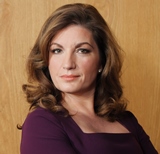 Baroness Brady of Knightsbridge,
Karren Brady (Baroness Brady of Knightsbridge) is the Vice-Chairman of West Ham FC, Lord Sugar's advisor on The Apprentice, the Senior Non-Executive Director of the Syco and Arcadia Boards and the Small Business Ambassador for the Conservative Party. In December 2013 she was awarded a CBE for services to Women in Business and Entrepreneurship.

Karren was the youngest Managing Director of a PLC in the UK when she floated her business on the London stock market in 1997. She sold that business, Birmingham City FC, in 2009, and in 2010, became the Vice Chairman of West Ham FC, the Premier League club that will be moving to the Olympic Stadium in 2016.

Previously, she spent 7 years serving on both the Boards of Channel 4 television, where she chaired the Renumeration Committee and the global retailer Mothercare PLC.

Brady has won many awards for services to business over the years, including being named Business Woman of the Year and Most Inspirational Woman of the Year. She has also been presented with the coveted Spirit of Everywoman Award, acknowledging her outstanding achievements in changing the landscape for women in business.

Karren Brady has emerged as a powerful advocate for British business and in September 2013 addressed the Conservative Party Conference and is proud to be the Small Business Ambassador to the Party, traveling up and down the country meeting and engaging with small business owner who are the back bone of the British economy. She serves on the Department for Culture Media & Sport's WISAB (Women in Sport Advisory Board) to help increase the status, influence and participation of women in the world of Sport.