Social Selling Index Series: Find the Right People
Learn how to focus on high-probability prospects by using LinkedIn's Advanced Search tool, leveraging Sales Navigator and evaluating LinkedIn activity.
Editor's note: This post is part of a series designed to help sales professionals increase their Social Selling Index (SSI) score by improving upon the four pillars of social selling:
Create a professional brand
Find the right people
Engage with insights
Build strong relationships
Each of the four pillars is scored on a scale of 0 – 25, with a maximum possible SSI score of 100. In this post we focus on the second pillar: finding the right people.
With a growing number of influencers involved in buying decisions at B2B companies today, it can be tough to identify who to target and at what point in the sales journey you should contact them. Typically, you start with a huge pool of potential candidates and use research, investigation, and deduction to narrow them down to the most likely prospects.  But with LinkedIn and LinkedIn's Sales Navigator, salespeople are now equipped to search for the individuals and companies that matter most to them in a more efficient, targeted way than ever before.  Here are a few tips for finding the right people, which can improve your sales lead generation results and help you achieve your sales goals.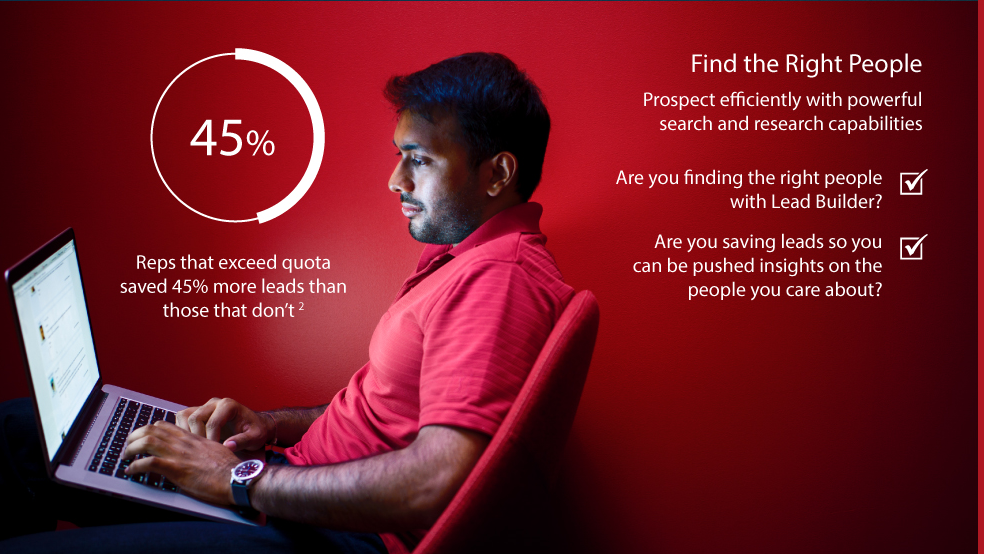 From our infographic: The New Formula for Social Selling
Use Advanced Search
The tool to start your search is right next to the magnifying glass at the top of your LinkedIn home page. Clicking the text that reads "Advanced" will take you to LinkedIn's Advanced Search tool. From there, you can filter your search using over a dozen different criteria.
Drilling down into specifics will ensure you aren't wasting your time shuffling through irrelevant contacts. It's worth putting in a little effort up front to create filters and learn the advanced features, and once you've established a methodology, it'll streamline your prospecting every time you initiate a new search.
Leverage Warm Introductions to Expand Your Network
Buyers are five times more likely to engage if the initial outreach is through someone they already know, so why not start with the prospects in your extended network? Advanced Search also allows you to search second-degree connections, and you can search your contacts' networks with the same filters you apply to your own.
When you find sales prospects at the second-degree connection level, you can send a request to your mutual connection for an introduction, transforming cold outreach into a warm introduction. Once that new connection is in your network, you can search their network for second-degree connections, and so on.
LinkedIn's Sales Navigator offers an even more efficient way to search for prospects in your extended network via TeamLink, a feature that serves as a virtual corporate Rolodex and unlocks access to your colleagues' LinkedIn connections. Discover prospects via TeamLink and ask your co-workers to broker warm introductions.
Evaluate the Prospect's Profile
Now that you've uncovered the right prospects, you can begin to focus your attention on specific individuals. You can start by looking for commonalities that can help you establish a relationship. You might have obvious connections like having gone to the same school or belonging to the same clubs or organizations in college. If not, look at skills, interests, and which LinkedIn Groups they belong to. Joining a LinkedIn Group that's important to your prospect can be great for establishing common ground.
When you've established that common ground, keep an eye on their level of engagement with LinkedIn. Are they actively posting content? Are they posting comments or engaging in conversations? Increased activity on LinkedIn can be a signal that a buyer is entering the buying cycle. When you save the prospect as a lead in LinkedIn's Sales Navigator, you can keep an eye on their activity and be equipped to offer value earlier in the buying process, when they're less likely to have settled on a vendor.
Sales Navigator makes this process foolproof, since it recommends leads based on your past history and other factors. The tool also allows you to save leads and funnels updates about these individuals and accounts to you on a regular basis.
Conclusion
With the right know-how and tools, going from a huge list of potential leads to just a few qualified prospects becomes much simpler. When you conduct advanced searches, explore second and third-degree connections and evaluate prospects' profiles, you're well equipped to find the right people and engage them at the right time. And incorporating Sales Navigator into your prospecting process makes it that much easier. With a little legwork, a higher SSI score within this pillar is yours for the taking.